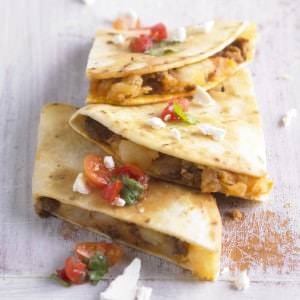 Potato and Chorizo Dobladas – USPB and Better Homes & Garden
Winner of the US Potato Board's "Ultimate Potato Recipe Contest," in partnership with Better Homes and Gardens magazine, this flavorful Potato and Chorizo Dobladas recipe combines mashed potatoes (great leftover idea!) and Mexican chorizo sausage (the heat from the chili peppers in this type of sausage is mild but flavorful so still kid friendly!) inside flour or corn tortillas. The team of recipe tasters picked this winning entry out of 334 total entries. Olé!
Servings: 5-7
Ingredients
2 medium (5- to 6-ounce) russet potatoes, peeled and cut into 1-inch chunks
1 15-ounce package uncooked Mexican chorizo sausage
10 6-inch flour or corn tortillas, warmed
2 to 3 tablespoons vegetable oil
Instructions
1. In a medium saucepan, cover potatoes with lightly salted water by 1-inch, and bring to a boil. Reduce heat to medium and simmer until potatoes are tender, about 20 minutes; drain. Mash with a potato masher.
2. In a large skillet cook chorizo thoroughly and drain well. Stir cooked chorizo into mashed potatoes.
3. Add 1/4 cup of the filling to a warm tortilla and fold in half. Repeat with remaining filling and tortillas.
4. In a large skillet heat oil over medium heat. Add 2 to 3 dobladas to the skillet. Cook 3 minutes for flour tortillas, 6 minutes for corn tortillas, or until crisp and golden brown, turning once. Drain on paper towels. Repeat with
remaining dobladas, adding additional oil as needed.
5. Serve warm and top with shredded lettuce, sour cream, salsa, and crumbled cheese as desired.